ChromA - Welcome
Chromatogram Alignment for Chromatography-Mass Spectrometry is a web based tool for the alignment and visualization of data from Chromatography-Mass Spectrometry.
Please note that ChromA is now part of Maltcms. The version on this server is not the most recent one and will not receive further functional updates. Please consider using Maltcms with the embedded chroma.properties pipeline instead!
Consider the case of a Metabolomics experiment, where you have measured the response of an organism's metabolome under different conditions. Now, you want to compare your data, noting, that some peaks seem to be conserved, while other peaks of known compounds are shifted in retention time between experiments. This is especially evident if you compare replicate experiments, let alone the intensity variation, the retention time shifts behave non-linearly and increase your work-load in assigning peaks between chromatograms.
So what you have will look comparable to the unaligned data in the upper part of the following image (Click to view complete TICs):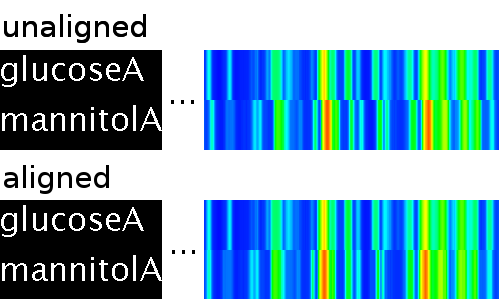 What you get using the ChromA webinterface or the Web Start version is shown in the lower part of the image.

Please note, that the largest nonlinear distortions usually occur towards the middle of the chromatograms. Thus, the preview only shows a section of the original TIC and the aligned TIC in the middle of the original chromatograms.